D3CL DeathMatch Tournament
Written by: Mag | Date: 2014-07-20 11:27:20 | Related to: D3CL Diablo 3 PvP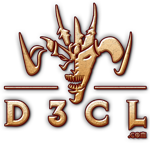 D3CL DeathMatch Tournament starts 27/07/2014 at 20:00 CET (Sunday). Signups are open. D3CL rules apply.

DM tournament in general:
- 4 players in a single game
- 8 rounds for each group
- 1 point for a frag
- 1 point for staying alive in a given round
- 2 best players promote to the next stage
- if there's a draw after the 8th round, player who in the last round was better, promote to the next round (even the order of death decide). If there's still a draw, player who killed in the last round as a first wins.
Comments
Forti
2014-07-20 11:40
I will sign up in friday. First I have to choose between dh / monk.
Vinchester
2014-07-21 20:41
I'm in. Vinchester-2363
Mr.Mag
2014-07-21 20:44
Vinchester you can sign up here: http://www.d3cl.com/en/tournaments/
Topic on forum